이상엽 XAI Land의 은행/금융 부문 고문으로 추대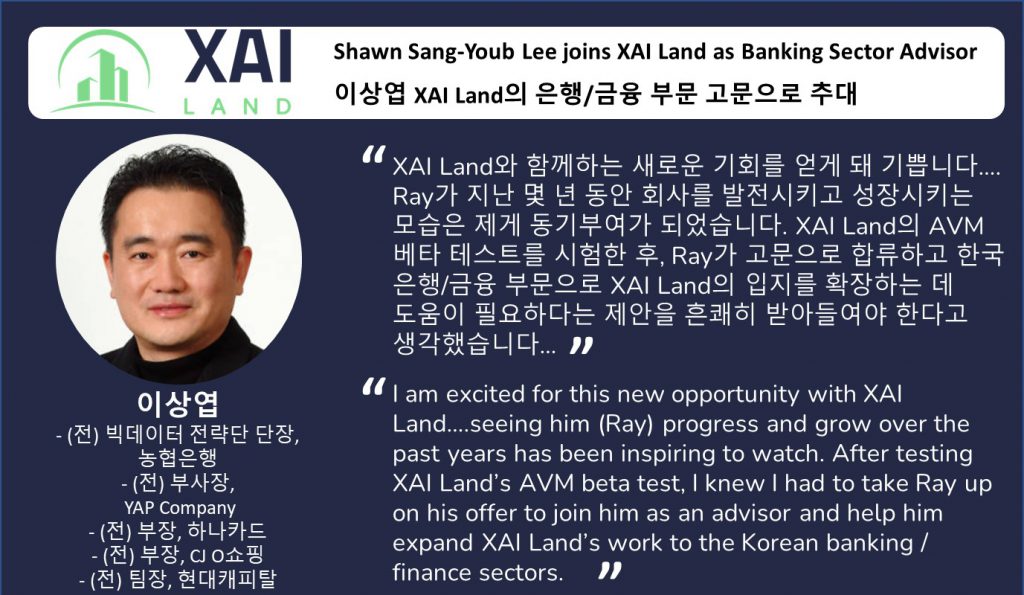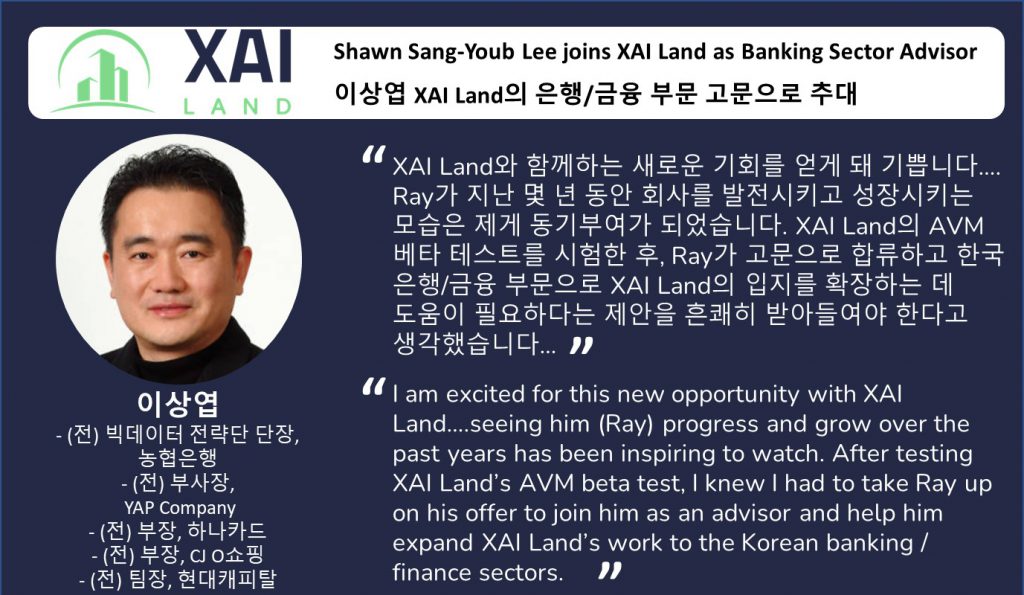 < English follows Korean >

자이랜드는 2022년 3월 14일 이상엽씨를 은행/금융 부문 고문위원으로 추대하여 XAI Land가 한국 은행 및 금융 기관과 협력하는 데 도움을 줄 것이라고 발표했습니다.
이상엽은 소매 은행/금융(현대캐피탈), 신용카드(하나카드), 핀테크(YAP Company) 등에서 데이터 관련업종에서 근무한 경력이 있는 경험이 풍부한 이사입니다. 최근에는 농협은행 빅데이터 전략팀장을 역임하면서 은행의 빅데이터 관련 부서를 신설하고 은행의 업무에 가치를 더한 핵심 AI 서비스를 통합했습니다. 또한 빅데이터 플랫폼의 정형 및 비정형 데이터를 활용하여 보다 나은 고객 서비스를 제공하는 실시간 개인화 캠페인(real time hyper-personalized campaign) 관리 시스템을 개발했습니다.
자이랜드의 공동 설립자이자 CEO인 Raymond Chetti는 "이상엽은 한국 시장에서 17년 이상의 임원 및 뱅킹/금융 경험을 보유하고 있으며, 그 중 4년은 농협은행의 빅데이터 전략 사업부 출범에 기여했습니다. 그는 빅데이터/AI 부동산 가치평가 업무를 확대하기 위해 국내 은행 및 금융 관련 기업들과 협력하기 위해 노력하고 있는 만큼 그의 경험을 자이랜드의 확대와 입지를 위해 활용할 것입니다." 라고 말했습니다.
이상엽은 "Ray가 2019년 초에 회사를 처음 설립할 때부터 알게 되었기 때문에 자이랜드와 함께하는 새로운 기회를 얻게 돼 기쁩니다. Ray가 지난 몇 년 동안 회사를 발전시키고 성장시키는 모습은 제게 동기부여가 되었습니다. 자이랜드의 AVM 베타 테스트를 시험한 후, Ray가 고문으로 합류하고 극내 은행/금융 부문으로 자이랜드의 입지를 확장하는 데 도움이 필요하다는 제안을 흔쾌히 받아들여야 한다고 생각했습니다. 동종업계에서 일하면서 얻은 경험과 네트워크가 Ray와 자이랜드가 빅 데이터/AI 기술을 통합하는 데 도움이 되기를 바랍니다." 라고 소감을 밝혔습니다.
자이랜드(주)에 대하여
자이랜드는 공정하고 투명하며 신뢰할 수 있는 부동산 평가 데이터를 제공하는 단일 정보 출처입니다. 회사는 가장 정확하고 포괄적인 공공/민간 데이터 및 독점 자동 평가 모델(AVM)을 기반으로 누구나 토지에 대한 정확한 부동산 평가와 함께 부동산을 매매할 수 있는 플랫폼이 되고자 합니다.
자세한 내용은 https://xai.land/를 방문하거나 LinkedIn ( https://www.linkedin.com/company/18522292/ ) 또는 Facebook ( https://www.facebook.com/xailand/ )에서 회사 업데이트를 팔로우하세요.
---
Shawn Sang-Youb Lee joins XAI Land as Banking Sector Advisor
XAI Land announced on March 14, 2022 that Shawn Sang-Youb Lee has joined the firm in a Banking / Financial Sector Advisor role where he will help XAI Land work with South Korean banking and financial institutions.
Shawn Sang-Youb is an experienced director with a demonstrated history of working in retail banking/finance (Hyundai Capital), credit card (Hana Card), and fintech (YAP Company) with experience providing data related products. Most recently, he served as the head of Nonghyup Bank's Big Data Strategy Group where he established the bank's big data related department and integrated key AI services that added value to the bank's day-to-today operations. In addition, he developed a real time hyper-personalized campaign management system utilizing structured and unstructured data from a big data platform for better customer experience.
Raymond Chetti, Co-founder and CEO of XAI Land, said, "Shawn brings over 17 years of executive banking / financial experience in the South Korean market, of which 4 years were dedicated to launching Nonghyup Bank's big data strategy division. He will bring his experience to XAI Land which will be invaluable as we strive to work with banking and finance related businesses in South Korea to expand our big data/AI real estate valuation work."
Shawn Sang-Youb commented, "I am excited for this new opportunity with XAI Land as I have known Ray from when he first started his company back in early 2019. Seeing him progress and grow over the past years has been inspiring to watch. After testing XAI Land's AVM beta test, I knew I had to take Ray up on his offer to join him as an advisor and help him expand XAI Land's work to the Korean banking / finance sectors. I hope to contribute my experience and network in working in these industries to help him and his team integrate their big data/AI technology."
About XAI Land
XAI Land is a single source of truth for unbiased, transparent, and trustworthy real estate valuation data. The company aspires to become a platform where anyone can buy/sell real estate alongside accurate property valuations for any-land-use, powered by the most accurate and comprehensive sets of public/private data and proprietary Automated Valuation Models (AVMs).
For more information, please visit https://xai.land/ or follow the company's updates on LinkedIn ( https://www.linkedin.com/company/18522292/ ) or Facebook ( https://www.facebook.com/xailand/ )